Home | Meet the Cosocians | Dr. D.V Darshane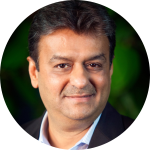 Dr. D.V Darshane
Advisory Board
Dr. Dnyanesh (D.V.) Darshane has worked at the intersection of science & emerging technologies, solving industry & social challenges for the last 30 plus years. His issues of focus have included ameliorating quality, advancing food safety, environment, education, information systems, product commercialization, and optimizing supply chains.
He has extensive experience in both strategic and operational areas in the Pharmaceutical and Food & Beverage industry. Currently, he is working as a Managing Director at FOBE Solutions LLC, USA, and supports the Food & Beverage industry including startups promoting new ways of thinking, innovating, and solving problems to create a positive change.
Dr. Darshane gained experience and exposure to international markets as he has worked and lived in Asia, Europe, and the USA. He has extensive experience in designing governance models, defining policy and standards and operationalizing them, leadership development, implementing digital solutions, renewal of water, and has led the development of strategy and execution plans for a large US-based multinational.
Dr. Darshane has held positions as a board member in various non-profit organizations such as GFSI, SPRI, SIWW & ISBT. He is a Senior Advisor for FSSC 22000 foundation helping large and MSME businesses achieve their food safety certifications in India and South-West Asia.
Dr. Darshane holds a Ph.D. in Analytical Chemistry from the Institute of Science, India, and an M.B.A. from Emory University, USA. He has received many international awards and accolades.