Home | Meet the Cosocians | Sandeep Bahl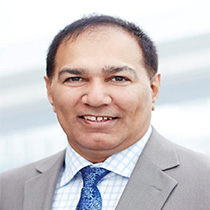 Sandeep Bahl
 Advisory Board
Sandeep has over 25 years of business aviation experience, much of which has been in the Asia Pacific Region. He has held key leadership roles assisting and executing Market Entry, Developing Sales and Marketing Infrastructure, Finance, and Operations for a number of major carriers and has worked in several global companies. Sandeep is the Chief Airline Adviser for Q&A Business Consulting and Program Director for US-India Aviation Program (ACP) a public-private partnership between U.S.
Trade and Development Agency, US Federal Aviation Administration and US companies. He was recently Chief Commercial Officer for MGC group including Mega Maldives Airlines.
Earlier Sandeep worked for Air New Zealand as RGM/Vice President Asia and was Director – China and Hong Kong with Delta Air Lines (Northwest Airlines) where he was instrumental in driving sustainable growth, establishing strong industry and regulatory relationships, enlarge customer base, build Joint Venture partnerships and ensuring a seamless merger of Delta and Northwest. Sandeep holds an MBA and postgraduate degree from Oxford Brookes University in the UK and studied at the Institute of Hotel Management in New Delhi.
He has also completed the China Managers Development Program from prestigious Cheung Kong Graduate School of Business and Executive development program from the University of Technology, Sydney. Currently a member of Australian Institute of Company's Director, he is also a visiting Professor and a guest speaker at two prestigious Chinese Universities. Sandeep previously acted as Chairman of the Board of Airline Representatives in China, International Advisory Chair in China for Travel Industry Association of the USA and as Co-Chair of the subcommittee on Aviation Economic Regulation – under US-China Aviation Cooperation Program.