The Retail Sector: Navigating the Pandemic Crisis Headwinds Towards Recovery & Sustenance
The Retail Sector: Navigating the Pandemic Crisis Headwinds Towards Recovery & Sustenance
Considering what the world has learnt from previous recessions, the key aspects to stress on during this pandemic crisis are that they expose existing weaknesses, accelerate emerging trends and force organizations to make structural changes faster than they had planned. This is particularly true in retail. During the recession of 2008–2009, e-commerce grew and brick-and-mortar retail declined. As the economic recovery took hold, that trend continued while off- price, discount and emerging players succeeded by appealing to new consumer demands.
In the wake of the pandemic crisis, a similar pattern is being followed, albeit with new trends shaped by a pandemic-driven global recession. Evidently, certain truths remain: Retailers struggling before COVID-19 will likely see their declines accelerate. Income disparities will drive continuing business toward off-brand and discount retailers and online shopping will continue to accelerate.
But several other potential trends are shaping the COVID-19 era retail environment. These include the following:
COVID-19 is having a significant impact on product demand and sales channel preferences through denaturing consumer behaviour. Consumers spend more time at home, are faced with deflated social lives and restricted mobility, heightened health concerns and financial insecurity.
The observations that provide clarity to the prevalent situation are that retail orthodoxies will be challenged and the industry will likely look much different than when the world entered this crisis.
For now, the picture may appear bleak. But retailers who grasp the challenge and join the gathering trends could well emerge stronger and provide a brighter future for employees, customers and stakeholders alike.
What this presses for is a structural change in the industry. By challenging traditional orthodoxies, retailers can redefine the basic assumptions by understanding how to build trust with stakeholders, how to operate stores in new ways and how to structure their entire operations around new consumer expectations. With major trends accelerating, retailers have an opportunity to create a resilient architecture and a mandate to thrive in a new way.
Issues faced by the sector due to COVID-19
Within the technology and software industry, the issues that could be faced due to COVID-19 are in the following key areas:
Evolving Industry Trends and Recommendations for Business Recovery & Proliferation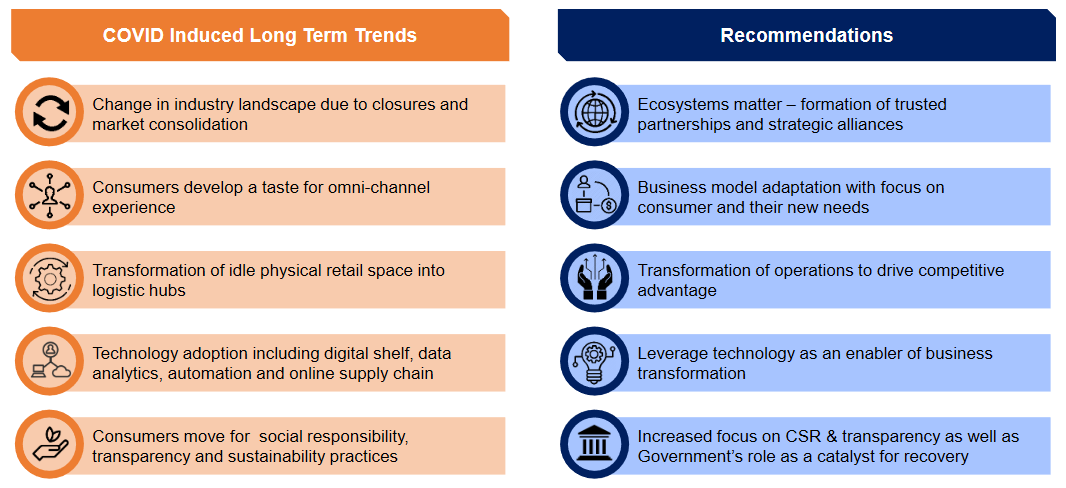 Retail sector Impact and Policy Responses
COVID-19 has dramatically disrupted the retail sector, with the shock differing massively between brick-and-mortar versus online shops, essential versus non-essential stores and small versus large retailers. The mitigation measures aimed at slowing the novel coronavirus (COVID-19) pandemic taken over the past few months have directly affected the supply, demand and daily operations of the retail sector. It mainly serves final demand and thus occupies an important position in value chains both as a provider to households and as an outlet for upstream sectors. It also often complements activities in other hard-hit sectors, e.g. tourism. In addition, the retail sector is very labour intensive, so any disruptions have disproportionate employment consequences.
The sector also relies on low-wage and part-time, on-call and gig workers that are not well-covered by traditional social protection measures, which further strengthens the social consequences of the crisis in this sector. At the same time, the impact of the COVID-19 crisis on the retail sector is heterogeneous and depends on the combined effect of three characteristics. First, the effect of social distancing measures on individual retail businesses depends on whether they are deemed essential. On the one hand, most non- essential retail activities have been shut down; essential retail businesses, on the other hand, often operate in difficult conditions, with labour supply shortages, major disruptions in supply chains and working conditions, and large spikes in demand for specific items.
Second, lockdowns and social distancing measures affect retailers with physical stores more than online retailers, and may ultimately accelerate the ongoing shift from brick-and-mortar to online retailing. Third, the sector is characterised by the coexistence of businesses with strikingly different abilities to weather the crisis, linked to different liquidity positions and access to outside finance.
Five policy response measures that countries need to take now for the benefit of firms, workers and customers to shield the retail sector from the effects of the crisis and enhance its resilience are as follows:
In these exceptional crisis circumstances, there are instances where co-operation between competitors is legitimate and lawful in order to overcome disruptions, especially in essential retail supply chains.
Against this backdrop, governments need to ensure that competition remains sufficient to avoid negative impacts on consumers.
Value Chain Actions for Holistic Revival & Sustenance of the Retail Sector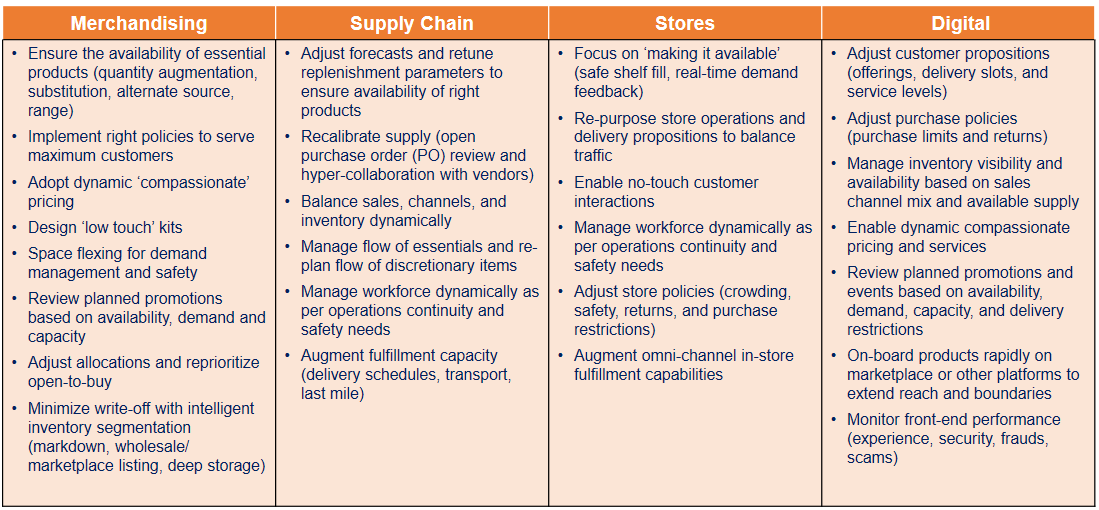 Industry Outlook – The Indian Perspective
Indian retail industry has more than 15 million retailers, both small and big, traditional and modern trade. Retail industry employs 46 million people, out of which 90% are in blue collar segment. Modern trade employs more than 6 million Indians equalling to almost 12 per cent of the total Retail consumption of the country. Retail contributes to approx. 40 per cent of India's Consumption and 10 per cent to India's GDP. The lockdown to prevent the spread of coronavirus in the country has greatly affected retail business. With unlock 1.0 and
2.0 coming into effect, most retail stores, high streets and malls have opened up but the footfall still remains significantly low. Essential- only commodity retailers have seen a hike in demand while non- Grocery/food retailers are reporting 80 per cent to 100 per cent reduction in sales in comparison to pre-COVID sales. Even retailers of essential items are facing losses as there is a big dip in demand for non-essential items, which would bring them higher margins.
There is a shift in consumer behaviour from offline shopping to online as people who were previously averse to online buying are now being compelled to explore online due to the restrictions in force. Organizations should closely follow consumer patterns and have an adaptive business model to stay relevant. Another shift in buying behaviour, especially for millennials is that they may choose to purchase only what they really require and hence buy less than they would earlier. While big-ticket purchases will be most likely get pushed to another 3 quarters, there may be an increase in small-ticket spending like eating out, buying apparel for feel-good post lockdown. This will be more like symbolic buying.
Though there is a significant impact on the retail businesses, recovery will depend on the nature of the sector. Leadership will focus on cost efficiency than growth. Focus will be high on efficiency and achieving more with less. This means some functions may see consolidation, pilots will be put on hold and focus will be more on fundamentals. Discretionary spending like entertainment, travel, admin costs are more likely to be cut than people costs.
Organizations which are already highly leveraged are going to face the toughest challenges to get back on feet. Collaboration will be the key in recovery. Collaboration in areas such as compliance within stores, collaboration for revenues, for distribution & delivery and collaboration for costs.
Recovery will be dependent on the Government's support to the sector. Retail industry is estimated to take 9-12 months to recover amid the pandemic. The demand for non-essential retail is projected to open with 40% of the value noted in pre-Covid times. The cost of business across non-essential sectors is likely to increase by 30- 35% post lockdown. In the absence of major support, as many as 20-25 per cent of retailers may be out of business or will need dire financial infusion to stay afloat. Government should focus on giving more money in the hands of the consumer, which will automatically come back in the system as consumer spends increases. Stimulus from the government can be a big push.
Reputation Challenges for the Industry
As various parts of the country proceed through a phased reopening, retailers are challenged with opening their stores in a safe and efficient manner. As pressured as they may be to reopen quickly, taking the time to understand consumers' state of mind as they venture back out into the world will help retailers identify ways to ease consumer anxiety; maximize shopper confidence; and stand out from competitors as a safe, reliable and caring partner.
Taking the "we're all in this together" approach could be considered harder, as it requires more thought, more cross-departmental coordination and may cost more in the long run. But it also comes with clear short-term benefits, not to mention many long-term benefits as well, including building customer loyalty and developing a reputation for a safe and friendly place to shop.
It's also important to consider the very real possibility that many of these seemingly temporary changes to the in-store experience will become lasting changes. In this regard, the COVID pandemic may be an opportunity for the savvy retailer to distinguish itself from competitors. Indeed, a safe and trusting in-store experience with help from friendly in-store associates is an experience that online platforms cannot replicate. The Global Web Index survey shows that 56 percent of consumers surveyed say brands that can best meet their needs will resonate most long term. 38 percent further said that those companies that can demonstrate that they helped people during the pandemic will be considered most long term. Old thinking cannot be brought to bear to solve new problems and despite a host of ongoing challenges, in order to grow customer loyalty, develop new customers, and grow their reputation during COVID-19, retailers must keep the anxious customer front and centre in all of their decision making as they reopen stores.
Many organisations are having their company values put to the test when it comes to their actions in balancing the support and protection of staff and customers with income and profit. A communications strategy for employees, partners, suppliers, authorities and the public is key to a risk management plan.
Imagine clear and friendly signage throughout the store that helps shoppers know where to go and what to expect. Imagine trained and calm staff, ready to help whenever needed. Imagine a checkout process that lets customers know contactless payment is an option, even providing instructions on how to quickly setup mobile payment solutions. Retailers that commit to fully implementing these changes during the reopening process stand to see long-term benefits in addition to the more urgent short-term benefits.
Consocia Advisory, has been at the forefront of building and protecting organisational and brand reputation for several sectors.
We remain available to curate effective programs to pre-empt and mitigate risks through process-thinking, process-improvement and institutionalisation of best business practices, so as to anticipate risk events, minimise their impact and safeguard the overall future of the enterprise.
Cushioning the COVID impact on our clients: Consocia's value driven services providing dynamic solutions
As COVID-19 grew into a global crisis, Consocia realized the need to support industry colleagues in dealing with the biggest challenge faced ever in recent times that of business continuity. In response to the situation, we were swift in curating an in-house crack team comprising experts in research and insights; stakeholder database generation; content; government relations and public policy.

Consocia Advisory engaged Central and State Governments besides many Districts through strategic narrative backed by data to highlight the need of the hour in the fight against the deadly pandemic. We urged immediate orders to restore Client's ability to manufacture, warehouse, transport and distribute the client's essential products across the country.

Presently, Consocia is working with several enterprises for business continuity as well as crisis management. In the last few weeks, we have helped opening of plants and warehouses of the Indian entity of a global disinfectant company in 6 states including in Red zones as well as
Containment areas, besides that of a renowned lighting solutions company in two states (Haryana and Karnataka) already while they are now looking for our assistance in three more states.

Within a few days of being on-boarded, through our 24×7 support, we were able to secure not only policy interventions for manufacturing but also for warehousing, logistics and distribution as well as access to staff & workers. In the process, we were able to assure the Central and State Government stakeholders that all due precautions are being taken to prevent and contain COVID 19. We even helped with internal SOPs for transportation and staff movement.

We are helping the apex body representing the Shopping Malls across India against the debilitating impact the Coronavirus pandemic has had on them. On behalf of SCAI, Consocia has crafted several interventions to draw the attention of the stakeholders and policy-makers on the plight of the industry and reinforcing reasons for Malls to be considered for resuming operations in a staggered manner, for the post-lockdown phase. At the same time, Consocia is working with the empowered Group of Ministers and Committees for COVID-19 response as well as the RBI seeking urgent financial stimulus for the sector and amplifying the initiatives through media engagement from time to time.

The upcoming editions of the dynamics of business transformation white paper series will focus on specific industries with strategies and outcome driven solutions to positively impact business outlook for business recovery and continuity in the COVID-adjusted world.

COVID-19 is a long battle for the industry. As your trusted well-wisher, our team is available to support you during these uncertain times in the areas of business continuity planning, public affairs, public policy and government relations. Contact us: reachus@consociaadvisory.com